RATCLIFFE COLLEGE COMMUNITY CAROL SERVICE
Ratcliffe College is inviting members of our parish community to their Christmas Carol Service on Sunday 12th December 2021, starting at 4:00pm and there will be refreshments served in the College Refectory afterwards.
Christmas Cards from Pax Christi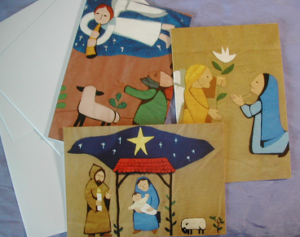 New Christmas cards are now available from Pax Christi: Felt banners were created  some years ago for display at a church in Cambridge during Christmas. These banners have now been made into Christmas cards. They can be ordered at £4.50 plus p+p here 
Alderman Newton's Educational Foundation Grants for Young People
Alderman Newton's Educational Foundation is a local charity who provide grants to financially disadvantaged young people under 25 in Leicester and Leicestershire to enable the take up of education, training and employment opportunities. 
The grants are available to cover a variety of costs not funded by other sources, and can include higher education and training course fees, equipment/ materials to enable young people to carry out their studies or employment, and travel costs. Residency criteria applies which means that those only living in the county for study purposes (i.e. university students from outside Leicestershire) are not eligible. The young people must either have lived in Leicester and Leicestershire for 2 years, or have a parent who has lived in the area for 2 years.
Please see the 'Grants to Individuals' factsheet. Full information, eligibility criteria and application forms can be found at the Foundation's website.
Do something amazing today – Give Blood!
There are currently low fill rates of blood donations at the Leicester Donor Centre. Do something amazing. Support your NHS by giving blood! Twitter: @GiveBloodNHS; Facebook: givebloodnhs; Visit www.blood.co.uk for more.
Universe Catholic Weekly
In place of the now defunct Catholic Universe Newspaper, there is now the Universe Catholic Weekly. The publication is being revived as a weekly online subscription based publication delivered direct to smartphones and tablets. It's once again the ideal place to advertise catholic teaching vacancies. To subscribe, visit  here and get 3 months of the Universe Catholic Weekly for just £20.
An offer for schools: If any member of your staff takes out a subscription we'll offer a free subscription this year to any pupil!
Right To Life UK – For the Unborn and for Pregnant Mothers
We join the Right To Life UK in November to pray for the unborn and for women who are pregnant with the following prayers each Sunday:
7th – "We pray for our Government, that their ability to support pregnant women would increase and that they would anchor themselves on the desire to protect all human life. Lord hear us"
14th – "Today we mark World Day of the Poor. We pray especially for all pregnant women, who due to financial struggles, feel pressured into having an abortion. We pray that as a society we would seek to provide a better system of care and aid for these women, enabling them to continue with their pregnancies and raise their child. Lord hear us"
21st – "We pray for the families and friends of pregnant women. That they would recognise their responsibility to care for the mother and child, and that they would shower them with love and support through the journey of pregnancy and beyond. Lord hear us"
28th – "As we ponder the hope found in the second coming of our saviour, we pray for all those in need of hope. We pray especially for those contemplating having an abortion, that they would be reminded of the hope God brings and His fundamental desire for our good. We pray also that as a society we would become channels of God's hope, providing support to all pregnant women. Lord hear us"
Justice for Windrush – University of Leicester
The University of Leicester is currently running a project that is assisting individuals who have been affected by the Windrush Scandal. Please see poster and project QA for more.