A New Community Centre
Holy Cross Priory benefits from two large halls and one small hall within the complex of buildings adjoining the church. The two large halls are on the ground and first floors within the frame of the original 1819 church on this site, and the smaller one is adjacent to them, sharing a common lobby area.
Current Challenges
Despite its size the complex is underused and not best able to serve the groups that use it:
Lavatories in poor condition
Kitchen too small and unhygienic
Heating (blow heaters) ineffective and costly
Lobby area unwelcoming and dark
Outdated electrical wiring
First-floor hall currently unused due to poor accessibility and leaking roof
Poor decorative condition throughout
Insufficient storage space for groups
Addressing the poor state of these facilities has become urgent, as it threatens our partnerships with groups such as Leicester City of Sanctuary.
Regeneration and Relaunch: Oct 2019 – Sept 2020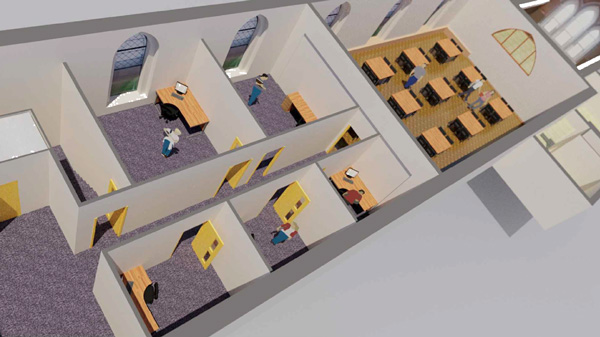 Our plan is to fully regenerate and transform this complex, relaunching it as a new pastoral centre to be known as 'The Frassati Centre'.
It will be named after a popular 20th-century Italian lay Dominican, Blessed Pier Giorgio Frassati (1901–1925), who is known for his wisdom and devotion, care for the poor, and sense of fun.
This exciting project would allow us to improve greatly the services offered to the local community, and open the centre out to new beneficiaries.   
New Spaces
A new reception area will make the building more welcoming.
New rooms will be created by dividing the unused first-floor hall and adding new lift access:

additional rooms for concurrent groups to meet
private spaces for prayer, counselling and study.
Who will benefit?

Current groups using facilities
Leicester City of Sanctuary (100).
Artzone (50)
First Love Church (100)
Weightwatchers (30)
Breakfast Club (20)
Children's Liturgy (30)
Sunday social (50)
Students' Sunday lunches (20)
Pensioners (50)
Faith development (30)
Additional planned parish uses
Events promoting Catholic social teaching, in partnership with the Las Casas Institute at Blackfriars Hall, Oxford
Welcoming ex-prisoners, homeless people, etc for support and counselling
Increased hire for family events
Prospective external groups interested in using renewed facilities
Prison chaplains (c.12)
School headteachers (22)
CTiL (Churches Together in Leicester)
A range of diverse community groups.
Fundraising
Raised: £180,000
To Find: £207,000
Timetable: complete by Sept 2020
Please help us to achieve our goals!

200th Anniversary Campaign: Links